In this blog, I would like to introduce our product lineup.
UNiD EDGE SDK is an open-source embedded middleware. By embedding our SDK into your devices, you can securely connect all devices to any cloud via UNiD HUB.
UNiD HUB is a message routing hub for establishing E2E secure channels with your devices. It acts as a message broker and routing service. You can easily build your applications through UNiD HUB's APIs.
UNiD Studio is one of the app that enables you to manage all devices, update security, and remotely control devices in one place.
The following figure shows the reference architecture of the UNiD Platform.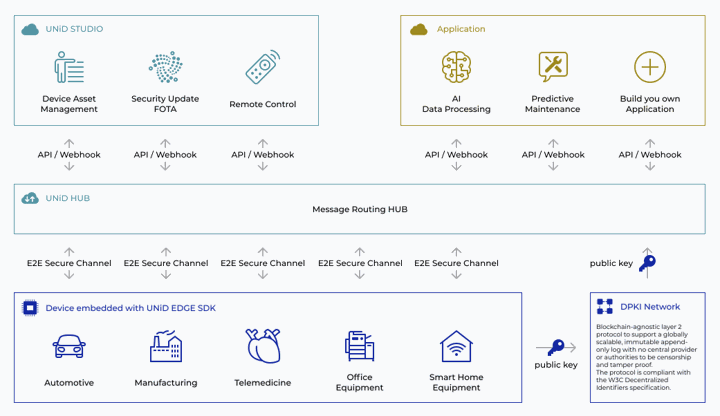 Technically, your device embedded with our SDK will autonomously generate key pairs within the h/w secure zone, compute the hash from the keys to create the payload, and register the payload to the DPKI network.
Your device has an edge intelligence to autonomously generate and register the corresponding key into the DPKI network and establish an E2E secure channel with UNiD HUB.
In other words, UNiD can fully automate device provisioning process with eliminating the intermediaries, and it greatly reduces the operation cost and vulnerability in manufacturing line.
We focus on building new identity-first security stack for distributed systems. If you are interested in our product, please contact us.
P.S. To learn more about UNiD EDGE, please visit our GitHub, where we will feature a technical deep dive. Click star if you like.